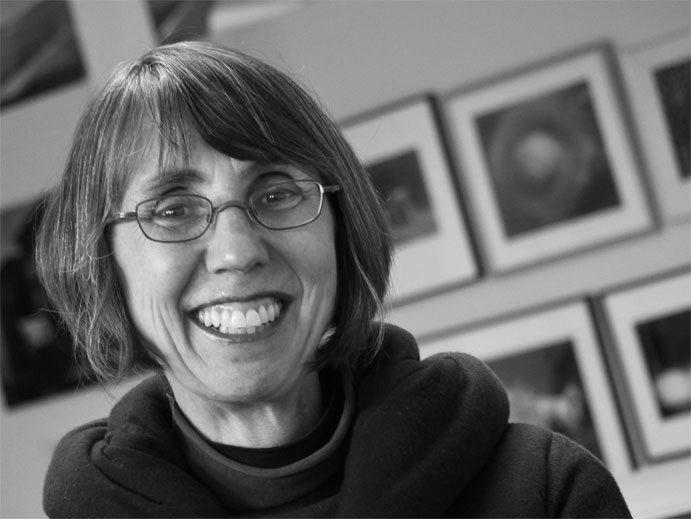 Diane Samuels is a visual artist, with studio and public art practices.  In both she uses other peoples' words and handwriting as her literal and figurative raw material.   She builds works that accrete from community engagements, layer by layer:  layers made of words from interviews and informal conversations with people on the street, in cafes, in their homes; layers made of places from castings, drawings, photographs, audio, maps; and layers made from archival documents, narratives of events, histories, memoirs, folk tales, and literature.  She has made drawings by writing out the texts of entire novels in micro-handwriting, converted a two-story glass pedestrian bridge into an anthology of phrases about looking at the world closely, and created artist's books from sessions transcribing storytellers.
Her permanent site-specific artworks include Luminous Manuscript (Center for Jewish History New York) and Lines of Sight (Brown University). Luminous Manuscript was awarded an IFRAA/Faith & Form Award for Religious Art and Architecture in 2005 and is included in Judith Dupré's 2007 (Random House) book, Monuments: America's History in Art and Memory.
In 1998, she built a commissioned memorial garden in Grafeneck, Germany, site "A" of the so-called euthanasia experiments in 1940. In 2002, she completed a six-year project working with history and current issues in Buttenhausen, Germany, which culminated in performances, exhibitions, and a book documenting the project (Imprints and Artifacts/Prägungen und Werkstücke).
Her exhibitions include the Andy Warhol Museum, the Carnegie Museum of Art, the Mattress Factory Museum, the Leo Baeck Institute, the Center for Book Arts, the Aldrich Contemporary Art Museum, the Contemporary Arts Center of Cincinnati, the Municipal Museum of Art (Gyor, Hungary), the Synagogue Center (Trnava, Slovakia), the Bernheimer Realschule (Buttenhausen, Germany), and the Czech Museum of Fine Arts.
Her work is in public and private collections including the Carnegie Museum of Art, Bank of New York Mellon, Reed College, Municipal Museum of Art (Gyor, Hungary), the Ruth and Marvin Sackner Archive of Concrete and Visual Poetry.
Samuels holds both a bachelor's and master's degree in fine arts from Carnegie Mellon University, a diploma from the Institute in Arts Administration at Harvard University and has received honorary doctorates from Seton Hill University and Chatham University. She is also co-founder of City of Asylum Pittsburgh, which provides sanctuary to writers in exile. Samuels is a former board member of the Carnegie Museum of Art and the National Catholic Center for Holocaust Education, and is a Distinguished Daughter of Pennsylvania.  In 2013 she was recipient of a Rockefeller Bellagio Residency in Italy and an American Academy in Jerusalem Fellowship.
Diane Samuels works with the Pavel Zoubok Gallery in New York City.
---
Related Links:
Diane Samuels at the Rockefeller Foundation
Florence & Isabelle: Diane Samuels, Part I
Florence & Isabelle: Diane Samuels, Part II
Brown University "Lines of Sight"
Center for Jewish History
In the Frame
Grafeneck Alphabet Garden
Buttenhausen, Germany
City of Asylum Pittsburgh
Pavel Zoubok Gallery
Design: Michael Solano-Mullings